South-west Dairy Farmers Welcome Nutrition Australia on Regional Tour
12 November 2019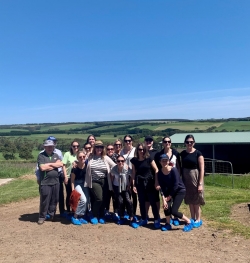 Farmers in south-west Victoria have embraced the opportunity to showcase the region's dairy industry to a visiting party from Nutrition Australia.
The tour, made up of 14 nutritionists, visited three farms to see how milk is produced and to gain first-hand knowledge of the paddock to plate experience. It was arranged by Dairy Australia and WestVic Dairy.
Technology & innovation
The itinerary for the day included; a visit to Phil and Symone Vines' robotic dairy at Simpson to look at technology and innovation; lunch at Apostle Whey Cheese where sustainability and vertically integrated farming were discussed; a tour of Brendan Rea's farm at Allansford where the focus was on modern farming practices, the importance of animal welfare and the stringent food safety checks that take place on-farm.
Educating & informing industry partners
For Brendan Rea agreeing to host the tour party was an easy decision: "Now more than ever it is essential that we educate and inform industry partners and the general public of what we actually do on-farm. It is important that they are aware of how well we treat our cows and the environment and how seriously we take food safety. There is a lot of mis-information out there and we need to be proactive in dealing with that," he said.
Nutrition Australia is the peak national community nutrition education body. As a long-term partner, Dairy Australia saw the opportunity to engage and further inform Nutrition Australia about industry practices, so they are equipped to educate the public holistically about food, nutrition and sustainable agriculture.
Catherine Godden, Health Professional Engagement Manager at Dairy Australia, said: "Public expectations of the food industry are changing and consumers are increasingly questioning the healthiness of dairy and seeking answers to questions on animal welfare, as well as environmental and social concerns. Opening up our farms to Nutrition Australia provides an opportunity to show their staff first-hand the people and practices behind our nutritious products, so they are equipped to engage with consumers about broader topics than health and nutrition."
Lucinda Hancock, Chief Executive Officer of Nutrition Australia, said: "Educating the public about the health and nutrition benefits of consuming dairy foods such as milk, cheese and yoghurt as part of a balanced diet has always been a focus of Nutrition Australia. But with growing consumer interest in how food is produced, its environmental impact and animal welfare concerns, our staff are increasingly faced with food choice questions that reach beyond nutrition. The farm visits have provided our staff with a valuable insight into the dairy industry, which will enable them to answer these queries with informed confidence."
Dairy Australia recently launched the new communication approach Dairy Matters, providing a platform to demonstrate the industry's values and standards and demonstrate an understanding of public expectations and answer questions about the issues consumers care about.