Nutrition Australia Vic Division 2019 AGM highlights
13 December 2019
The impact of sustainability on food innovation, and the implementation of three year strategic plan
Held on 29 November, 2019 the Nutrition Australia Vic Division AGM guest panel of speakers addressed the impact of sustainability on food innovation. And Chairman, John Wills, reported exceptional yearly results with the implementation of Nutrition Australia Vic Division's three year strategic plan focusing on four pillars:
advocate and influence
partnerships
products and services
build capacity and sustainability
2018/19 saw the implementation of our new three year strategic plan with a greater focus on advocacy, including the increased efforts of the Fruit and Vegetable Consortium and greater contribution to networks.
We successfully developed and piloted new products whilst improving service efficiencies, building capacity and ensuring long term sustainability of our organisation so that we can continue to support healthy eating and increase our impact.
Some of our unique achievements for the year include
launching an exciting new national product: nutritious, seasonal preplanned menus for long day care centres
establishing the Fruit & Vegetable Consortium (FVC), which brings together key organisations to collectively advocate for comprehensive collaborative action to address Australia's low levels of fruit and vegetable consumption
welcoming Marley Spoon co-founder, Oliva Andrews, as our first ever brand ambassador for National Nutrition Week 2018
reaching our one-millionth Victorian through our state-governmentfunded Healthy Eating Advisory Service
embarking on a ground-breaking $4 million, five-year national research project with CSIRO and Flinders University to increase children's vegetable consumption
representing Nutrition Australia and our project partners at over 19 nutrition, health, education and food industry conference and events
increasing revenue by 14%, to end the year with a satisfying net profit of 6%.
Commencement of a Three Year Strategic Plan across four pillars
Advocate and influence
Contributed to five position papers including the call for new national nutrition policy.
Participated in 11 leadership groups to keep healthy eating on the public agenda including VicHealth's Healthy Eating and Active Living group.
Led the Fruit and Vegetable Consortium to develop a consensus statement to increase the consumption of fruit and vegetables.
Secured another 18 months funding for the Healthy Eating Advisory Service.
Partnerships
Reviewed and updated the national partnership and sponsorship guidelines and ensured compliance.
Increased financial and in-kind partnerships by 23%.
All potential risks identified and mitigation/monitoring in place.
Products and services
Undertook on organisational efficiencies review and have commenced implementing.
Developed and marketed two new product offerings.
A seasonal menu package for long day care centres.
Food industry product assessments.
Build capacity and sustainability
Improved financial modelling and performance, net profit greater than 6%.
Successfully contracted commercial and government services, ensured compliance and exceeded expectations.
Commenced reengineering operations to improve efficiencies and reduce cost.
A discussion about the impact of sustainability on food innovation
A specialist panel of guest speakers presented, addressing the impact of sustainability on food innovation. Their collective experience made for an insightful and interesting discussion.
2020 will team Nutrition Australia and Sustainability Victoria to promote healthy eating in a way that supports a more sustainable and equitable food system, increasing nutrition and decreasing waste.
Ivone Ruiz: One of Australia's leaders in food innovation and product development
Travis Hatton: Food Waste Lead at Sustainability Victoria, currently on a mission to end food waste by exploring innovative solutions to repurpose food waste into value-added food products
Stuart Griffin: Former veterinarian, fourth generation dairy farmer at Springvale and deputy chair of supplier representative group, Fonterra Australia Suppliers Council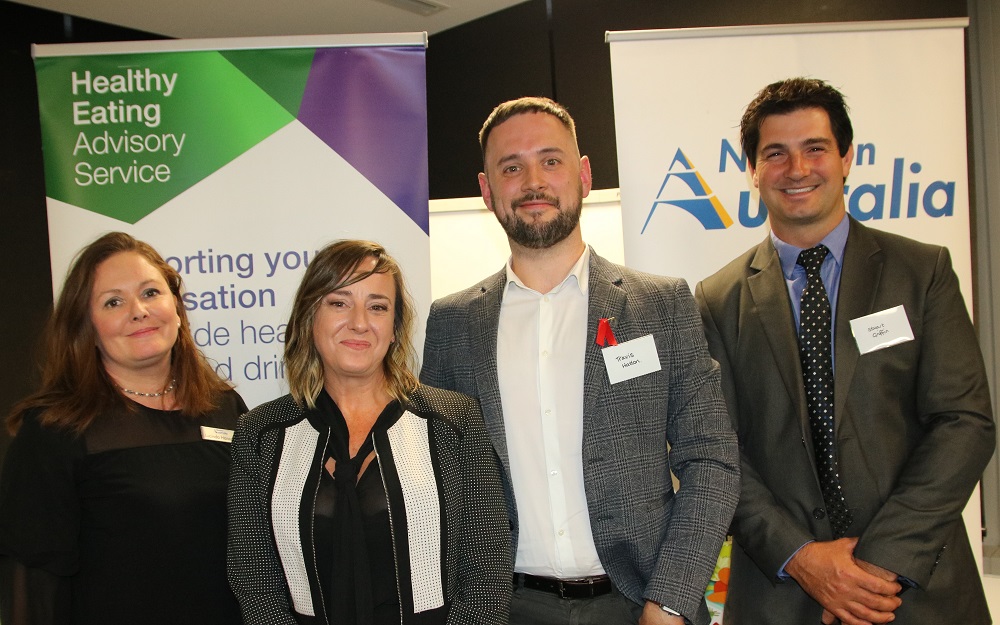 2020 and beyond
2020 will bring further progress, as Nutrition Australia advocates for your health and as we continue to support healthy eating and increase our impact for all Australians.